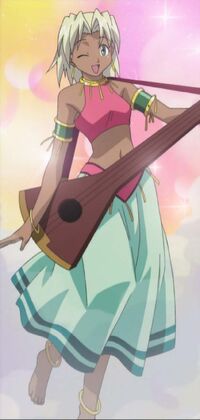 Adult Su is a form Kaolla Su turns into whenever there is a Red Moon.
While in this form, Kaolla tends to play a Setar which, in the anime, she can use to access powers like creating copies of Tama-Chan to make a "Lovely Tama Attack". Unlike her sister, Amalla Su, she can't control the weather, which is a skill Amalla is seen capable of through playing her flute.
According to Amalla in the anime, Kaolla turns into her adult form because a part of her wants to grow up and return home to her step-brother. She also explains that transforming into adult form causes enormous pressure on Kaolla's body and endeavors to stop the transformations when they happen.
In the manga, however, Kaolla instead explains that it is the particles in the red moonlight that reacts to her skin and makes her look more mature. The transformation is also considered a natural ability of Kaolla's and does not seem to posses any harmful side-effects.

Gallery
Trivia
In the anime, child Kaolla is unaware of her transformations and does not remember anything during her time as an adult. However, in the manga she is well aware of this ability and actually makes preparations for it (such as practicing her instruments and dancing) as each red moon approaches.
In the anime, Kaolla also returns to her child form through will, but in the manga she only returns to normal as soon as the red moon is either hidden or returns to normal.
Community content is available under
CC-BY-SA
unless otherwise noted.