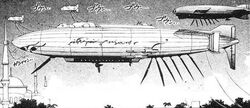 The Amallan Kaollan is a large Molmol airship. Designated the flagship of the Kingdom of Molmol, Kaolla uses it, along with the Royal Air Force's third mobile fleet, to chase Seta and travel across her kingdom to the Todai Ruins (Ch.111).
Considerably larger than most of the other airships in the fleet, the Amallan Kaollan possesses a large assortment of artillary guns as well as various interal chambers, including a large bedroom for royalty and a multipurpose reception area for "guests".
Gallery
Community content is available under
CC-BY-SA
unless otherwise noted.