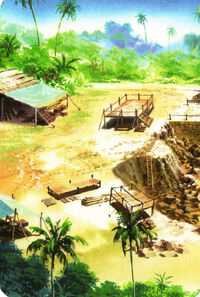 "Well, who knows? Excavating is tricky. It's not like you will always find what you're looking for. Even if you dig and dig, there is no guarantee you'll ever find a single thing. But that's what's so great about it, you wont find the meaningful stuff unless you dig beneath the surface. So keep digging."
Archaeology is the study of human activity in the past, primarily through the recovery and analysis of cultural and environmental data that has been left behind; such as artifacts, architecture, biofacts and cultural landscapes.
The purpose of archaeology is to learn more about past societies and the development of the human race.
Noriyasu Seta is a professor in Archaeology and teaches the craft at Tokyo University. He often uses archaeological terms and descriptions to describe how relationships work although it is unknown if he is intentionally doing this.
Jomon Pottery

Jomon pottery is a type of ancient pottery made during the Jomon period (Japanese prehistory from about 14,000 bce to 300 bce) in Japan. "Jomon" mean "Rope-patterned", and it describes the pattern pressed into the clay.
Gallery
Trivia
See Also
Community content is available under
CC-BY-SA
unless otherwise noted.