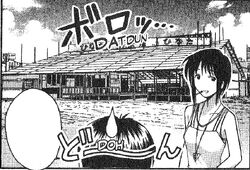 The Beach Café Hinata, also known as the Hinata Seaside Teahouse in the anime, is a seaside café' located in Hinoshima and linked with the Hinata House. Owned by Hina Urashima but run by Haruka Urashima, it is open during the summer holidays to provide extra income to the Hinata House apartments.
The café' has a tradition of performing a play during the local summer festival.
During the events of the Love Hina anime the teahouse is destroyed during a rendition of the Journey to the West. After continuing the play in an excavated coliseum ruin, a battle between Noriyasu Seta and Motoko Aoyama caused a geyser to erupt within the ruin, quickly turning it into a type of hotspring. As Seta had discovered the ruin, he gave it over to the possession of the Hinata House and the Open-air Seaside Hotsprings were created, becoming a new attribute for the rebuilt seaside teahouse.
In the manga the café' survives the play and consequently the Seaside Hotsprings are not featured.
Location Design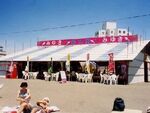 The Beach Cafe is based on "Miyuki House of the Sea" in the coastal city of Fujisawa. The cafe is located just in front of Marineland.

Gallery
Community content is available under
CC-BY-SA
unless otherwise noted.