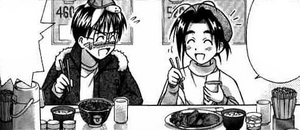 Beef Bowl, or Gyūdon (牛丼), is a Japanese dish consisting of a bowl of rice topped with beef and onion simmered in a mildly sweet sauce flavored with dashi (a type of fish and seaweed stock), soy sauce and sweet rice wine.
The dish often includes shirataki noodles, and is sometimes topped with a raw egg.
It is a very popular dish in Japan and is commonly served with beni shōga (pickled ginger), shichimi (ground chili pepper), and a side dish of miso soup. It can be found in many Japanese restaurants and some fast food chains specialize exclusively in the dish. The largest Beef Bowl chains in Japan are Yoshinoya and Sukiya.
Gallery
Trivia
Mutsumi Otohime and Keitaro Urashima both love Beef Bowl. Keitaro attempted to take Naru to a Beef Bowl restaurant during their date but she refused. During his date with Mutsumi, Mutsumi herself asked that they go to a restaurant selling Beef Bowl.
The Beef Bowl restaurant Keitaro attempts to take Naru to on their date is called Yoshidaya. A possible allusion to the real-world Beef Bowl restaurant chain, Yoshinoya.
Community content is available under
CC-BY-SA
unless otherwise noted.