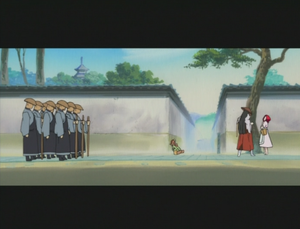 A Chanbara Film (Chambara Film) (チャンバラ "sword fighting") is a genre in Japanese cinema oriented around samurai and related themes (eg. ninja, ronin, sengoku war, Meiji era, etc).
A sub-category of the Jidaigeki genre (Period Drama genre) (although in modern times the genre also crosses with Gendai-geki (modern drama) and Anime), the Chanbara film began as dramatic pieces focusing on the lives of the samurai in feudal Japan until post-World War II when the genre become more action-based, with darker and more violent characters. Chanbara films were constantly made into the early 1970s, but by then, overexposure on television, the aging of the big stars of the genre, and the continued decline of the mainstream Japanese film industry put a halt to most of the production of this genre until the 1980's, when the anime genre rose in popularity and opened a new media for the Chanbara genre to enter.
While a Chanbara film must have a samurai focus, the story or premise of the narrative may differ depending on the period it is set; for instance the Sengoku era (1478-1603) saw Japan torn by civil war as daimyo warlords fought for control of land. In the Tokugawa era (1603-1868), peace from civil war meant there were no wars for the samurai to fight and some samurai became ronin and struggled to survive. In the Meiji era (1868-1912), a decline of the hereditary existence of the samurai and the rise of westernization is a major narrative point.
A recurring conflict in Chanbara films is that the ideal samurai encounters a situation that puts their concept of "ninjo" (conscience; feeling that tells you what is right and wrong) and "giri" (duty; obligation and loyalty to their lord, clan and family above themselves) into conflict with each other. Often times the samurai would be put into a situation where they would question the morality of their actions and are torn between duty and conscience.
Gallery
Trivia
The term "chanbara" (or chambara) arose as an onomatopoeia describing the sound of swords clashing.
The Chanbara genre is considered the Japanese equivalent of the Cowboy and Swashbuckler (Pirate) genres in the west.
Some of the more famous Chanbara films include: 47 Ronin, Seven Samurai, The Last Samurai, and The Hidden Fortress. Some of the more famous characters from the genre include Musashi Miyamoto, Yojimbo, Sanjuro, Zatoichi, and Rurouni Kenshin.
Violence in the genre is generally considerably stylized, sometimes to such a degree that sword cuts cause geysers of blood from wounds. Dismemberment and decapitations are common.
Community content is available under
CC-BY-SA
unless otherwise noted.