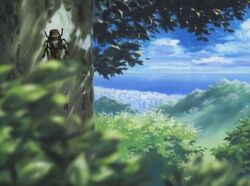 The Cicada is associated with the summer season in Japan.
Since the cicada emerges from the ground to sing every summer, in Japan it is seen as a symbol of reincarnation and new beginnings. Of special importance is the fact that the cicada moults, leaving behind an empty shell. Furthermore, since the cicada only lives for the short period of time, long enough to attract a mate with its song and complete the process of fertilization, they are seen as a symbol of evanescence.
Trivia
The noise the cicada makes are often used in Japanese film and television to indicate the scene is taking place in the summer. This trope reveals a cultural gap between Asia and the West because cicadas may sometimes appear year-long in the former.
During the summer in Japan, it is a pastime for children to collect both cicadas and the shells left behind when moulting.
Community content is available under
CC-BY-SA
unless otherwise noted.