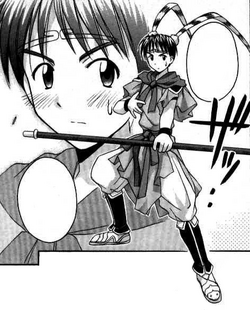 The Compliant Rod (also known as Rúyì Jīngū Bàng, the Compliant Golden-Hooped Rod, or the Power Pole) is a magical staff wielded by the immortal monkey Sun Wukong in the 16th-century classic Chinese novel Journey to the West.
Able to extend or shrink at the whim of its wielder, the rod is said to weigh 17,550 lbs (7,960 kg), however, Sun Wukong is able to wield the staff with ease due to his immense strength.
The staff first appeared in the novel's third chapter when the Monkey King goes to the underwater kingdom of Ao Guang, the Dragon King of the East Sea, looking for a magic weapon to match his strength and skill. When all of the traditional magic weapons--swords, spears, and halberds weighing thousands of pounds each--fail to meet his standards, the dragon queen suggests to her husband that they give Sun a useless iron pillar taking up space in their treasury. To entice Sun Wukong, she claims that the ancient shaft had started producing heavenly light days prior and suggested that Wukong was fated to own it.
The staff initially appeared as a pillar of black iron twenty-feet in height and the width of a barrel. However, when Wukong lifted it and suggested that a smaller size would be more manageable, the staff complied with his wishes and shrunk to a manageable size. Satisfied, Wukong took the weapon to use in his adventures.
Gallery
Other Appearances
Negima! Magister Negi Magi
Main Article: Shinchintetsu Jizaikon
In Negima! Magister Negi Magi, Kū Fei's Pactio artifact is the Shinchintetsu Jizaikon; a heavy martial arts quarterstaff that is capable of extending and enlarging to attack far away targets. Kurt Godel refers to it as a copy of the Compliant Rod.
Trivia
The novel never explains how the rod was made, only that it was originally used by Yu the Great to measure the depths of the world flood during times immemorial.
When not in use, Wukong shrinks the rod down to the size of a needle and keeps it tucked behind his ear.
Community content is available under
CC-BY-SA
unless otherwise noted.