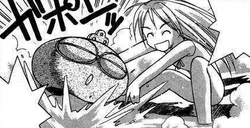 Dogū (土偶) are small humanoid clay figurines made exclusively during the late Jōmon period (14,000 – 400 BC) of prehistoric Japan.
Made across all of Japan (while the majority of the figurines found were on the eastern coast) except Okinawa, there are various styles of Dogū, depending on exhumation area and time period. According to the National Museum of Japanese History, the total number found throughout Japan is approximately 15,000.
The purpose of the Dogū remains unknown and should not be confused with the clay haniwa funerary objects of the Kofun period (250 – 538 AD).
Gallery
Trivia
For some unknown reason, by the Yayoi period (300 BC – 250 AD), which followed the Jōmon period, Dogū were no longer made.
The Shakōki-dogū are a type of dogū that are so well known that most Japanese think of them when thinking of dogū. Amongst their most distinguishing features are eyes that resemble Inuit snow goggles and exaggerated, feminine buttocks, chest and thighs. They are thought to have been used as a part of some kind of fertility ritual.
See Also
Community content is available under
CC-BY-SA
unless otherwise noted.