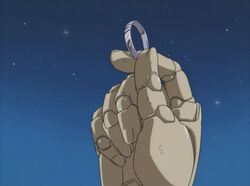 An Engagement Ring is a ring indicating that the person wearing it is engaged to be married, especially in Western cultures.
Conventionally, the woman's ring is presented as a betrothal gift by a man to his prospective spouse while he proposes marriage or directly after she accepts his marriage proposal. It represents a formal agreement to future marriage.
The ring, as a symbol, is a tangible manifestation of the circle; it represents infinity and eternity, divinity and life. The ring also represents power, dignity, sovereignty and strength. Thus, to bestow a ring is to indicate a transference of power. As is exemplified by the traditional wedding ring, the object is also binding, as with husband and wife.
History
Engagement bands began in Ancient Egypt as the circle was used to symbolize a never ending cycle and the space in it as a gate way. Rings were placed on the fourth finger on the left hand, because Ancient Egyptians believed that it contained a vein that led to the heart.
Betrothal rings were used during Roman times, but weren't generally revived in the Western world until the 13th century. Romans believed the ring to be a symbol for ownership rather than love. It meant that the husband would claim his wife.
Greeks may have been the first to create engagement rings, but to them they were known as betrothal rings. The rings however were not required to be given before marriage, unlike traditional engagement rings of today. In Europe, engagement rings were once known as a Posie ring. It was given as a form of promise of fidelity and love.
The history of actual engagement rings first originated in 1215, when Pope Innocent III established a waiting period between the promise of marriage, and the actual marriage ceremony. The rings were then signified the couple's devotion to one another, in that period of time. During that period of time engagement rings often represented one's social rank as only the rich were allowed to own or wear rings with jewels.
The first well-documented use of a diamond ring to signify engagement was by the Archduke Maximilian of Austria in imperial court of Vienna in 1477, upon his betrothal to Mary of Burgundy. This then influenced those of higher social class and of significant wealth to give diamond rings to their loved ones. Diamond mines in Africa were discovered in 1870, which then increased supply. As production increased with demand, those of lesser means were able to join in on this movement.
Gallery
Trivia
Wedding rings worn by men were more common during World War II, as the men overseas wore their rings as a reminder of their wives and families back home.
Keitaro Urashima's engagement ring to Naru Narusegawa (in both the anime and manga) is actually similar in design to Noriyasu Seta's engagement ring to Haruka Urashima.
Community content is available under
CC-BY-SA
unless otherwise noted.