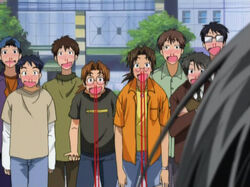 Fan service (ファンサービス fan sābisu), Fanservice, Service cut(サービスカット sābisu katto), or simply Service (サービス sābisu), is a vaguely-defined term primarily used for anime and manga to refer to material that is designed to amuse or excite the audience with gratuitous elements that are usually unnecessary to the storyline.
The typical, but not only, element of fan service is racy or sexual content used to titillate the viewer, such as nudity or other forms of eye candy. Shower scenes were a very common fan service in anime of the 1980s and 1990s, while many more recent TV series use trips to Onsen, beaches or trips to tropical locales in order to showcase the characters in bathing suits or various states of relative undress that would otherwise be out of place with the tone of a series.
Elements of Fan Service may include
Clothing that outlines the shape of the breasts, nipples, and labia, suggesting tightness of clothing and arousal.
Uniforms, costumes, or outfits (all tightly worn) that may be provocative, but are worn as everyday clothing by the character.
Bouncing of over-sized breasts.
The common gag that is usually pulled off in anime, the "head in breasts gag" that is commonly used when a male meets a busty female and falls into her cleavage. This can also be known as "Marshmallow Hell".
Characters who are unaware of their sexuality; appearing innocent and cheerful, or sly and mischievous.
The groping of breasts (whether intentional or not).
Clothing that is falling off or being pulled off, notably swimsuits and "sailor"-style schoolgirl uniforms.
Up-skirt panty shots and cleavage.
Suggestive or phallic imagery.
Exaggerated sexual attributes, often on normal or petite figures to give a sense of contrast.
The occasional bare breast(s) or bottom, but the genital area is rarely explicitly shown.
Skimpy bathing suits with crotch lines showing and sides of breasts showing.
Shining skin indicating sweat or blurry and teary eyes.
E.N.F. (Embarrassed Nude Female): A female character fully/almost nude in public showing signs of embarrassment, humiliation or acting completely normally.
Gallery
Trivia
When told that Naru would be in charge of the service department, Mitsune frequently mistakes that the "service" part involved "fan service" and offered her advice on lewd techniques.
Akamatsu admitted that Naru was easier to get into situations where she got nude, when compared with Motoko or Shinobu.
Community content is available under
CC-BY-SA
unless otherwise noted.