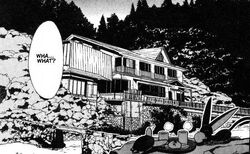 The Forbidden Annex, also known as the Legendary Annex, is the northern-most building of the Hinata House complex.
Partially covered by a land slide the annex was known as the "Inn of Fateful Unions" because any couple that stayed the night always ended up together. The Urashima family sealed the annex due to the potential for the annex's power to be abused and later closed the area off permanently due to the danger the land slide presented.
When Keitaro attempted to use the Annex's power to help move along his relationship with Naru he accidentally proposed to Kanako, his sister, instead. In his endeavour to beat the annex's magic the annex was destroyed.
Location Design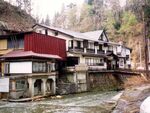 The Forbidden Annex is based off of the image of Kanayama's Museum and hotspring waterfall.

Trivia
In UQ Holder ch. 100, an annex with a similar legend and properties to this one makes an appearance.
Gallery
Community content is available under
CC-BY-SA
unless otherwise noted.