The Fundoshi (褌) is a traditional Japanese undergarment used mainly for adult males and was the underwear of choice for rich, poor, warrior, high or low status persons up until the Second World War.
Essentially the fundoshi is a length of cloth, the dimensions being around 34 cm / 14 inches wide and 2.3 m / 92 to 96 inches long; that is wrapped around the wearer's waist, thread between the legs over the groin and tucked into itself, often twisted to create a thong effect at the back.
Gallery
Other Appearances
UQ Holder!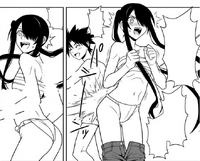 Main Article: Fundoshi
Trivia
Before World War II, the fundoshi was the main form of underwear for Japanese adult males. However it fell out of use quickly after the war with the introduction of briefs and trunks to the Japanese market.
The idiom fundoshi o shimete kakaru (tighten your loincloth) means the same as the English phrase "roll up your sleeves" — in other words, get ready for some hard work.
The lower half of the Leaf Bikini is tied in a mock-fundoshi style.
Community content is available under
CC-BY-SA
unless otherwise noted.