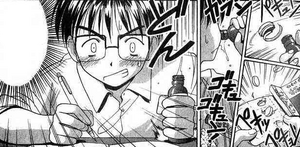 Genki Drinks (Vigor Drinks) are energy drinks that were first pioneered in Japan in 1962 when Taisho Pharmaceuticals Co., Ltd. combined taurine with vitamin B ingredients to create what is now known as Lipovitan D. Since the development of this drink, various additional tonics have been developed for the purpose of energy supplementation, curing hangovers, improve health, and boost various energy levels.
A popular energy supplement, genki drinks can be found in most convenience stores in the country.
Gallery
Other Appearances
UQ Holder!

Main Article: Genki Drinks
While writing reports following the zombie holocaust attempted by Sayoko Minase, Karin Yuuki is seen drinking a genki drink.
Trivia
It has been stereotyped that exam students will drink Genki Drinks en-mass during all-night study sessions to stay awake, as well as downing antacid medication to combat anxiety and stress-induced stomach problems. This stereotype has also been applied to overworked office workers and manga artists.
Although it was developed years before the likes of Red Bull and other popular western energy drinks, some believe that the Genki Drink's slow infiltration to the West over the typical energy drink is due to the brand's association with Japan's workaholic image of the tired, over-worked salary man.
Genki drinks were taboo for Japanese women until the new millennium. Before this time, society's view was that women shouldn't drink them due to it not being "lady-like". Even so, woman still reportedly consumed the drinks in secret. As the image of the drink changed from that of an energy drink to that of a health supplement, it became more socially acceptable for woman to be seen drinking Genki drinks as well.
Community content is available under
CC-BY-SA
unless otherwise noted.