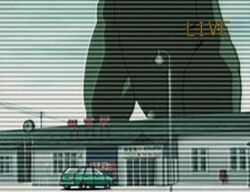 Godzilla (ゴジラ, Gojira) is a Japanese movie monster (a daikaijū), first appearing in Ishirō Honda's 1954 film Godzilla. Since then, Godzilla has gone on to become a worldwide pop culture icon starring in 28 films produced by Toho Co., Ltd. The monster has appeared in numerous other media incarnations including video games, novels, comic books, television series, and American remakes.
With the bombings of Hiroshima and Nagasaki still fresh in the Japanese consciousness, Godzilla was conceived as a monster created by nuclear detonations and a metaphor for nuclear weapons and the Second World War in general. As the film series expanded, the stories took on less serious undertones portraying Godzilla in the role of a hero, while later movies returned to depicting the character as a destructive monster.
Gallery
Trivia
One of Godzilla's frequent adversaries is a robotic replication of himself, known as "Mecha-Godzilla". Kaolla Su created a similar robotic replication of Tama, known as the "Mecha-Tama".
In the Love Hina Anime, Mutsumi Otohime, having split herself into twin "fairy versions" of herself, sings a song to summon the "mighty dragon" Tama. This entire scene is a parody of Mothra; a giant, female moth, who is another adversary/ally of Godzilla. Mothra has two fairy attendents who sing a similar song to summon her.
Community content is available under
CC-BY-SA
unless otherwise noted.