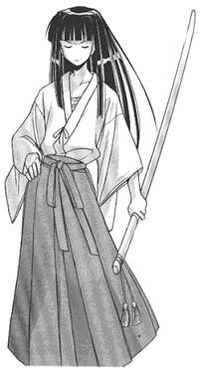 Hakama (袴) are a type of traditional Japanese clothing that is worn around the waist and covers the lower body and legs (similar to trousers) over a kimono. They were originally worn only by men, but in recent time they are worn by both sexes.
There are two types of hakama; hakama with divided legs, known as Umanori ("horse-riding" hakama) and undivided, dress-like, Andon Bakama ("lantern" hakama).
Hakama can be worn with any type of kimono except Yukata. While hakama used to be a required part of men's wear, in modern times men usually wear hakama only on extremely formal occasions such as tea ceremonies, weddings, and funerals. Hakama are also regularly worn by practitioners of a variety of martial arts, such as Karate, Kendo, Iaido, Taido, Aikido, Ryu-te, and Kyūdō.
Women rarely wear hakama except at graduation ceremonies and for traditional Japanese sports such as Kyūdō, Aikido and Kendo. The most iconic image of women in hakama are the Miko shrine maidens who assist in maintenance and ceremonies of Shinto shrines.
A miko's uniform consists of a plain white kimono with a bright red hakama.
Gallery
Trivia
Hakama have seven deep pleats along the legs; two on the back and five on the front. The pleats are said to represent the seven virtues of bushido, considered essential to the samurai way.
The practitioners of the Shinmei-ryu School of Swordsmanship typically wear a white kimono and red hakama uniform like Shinto shrine maidens.
Community content is available under
CC-BY-SA
unless otherwise noted.