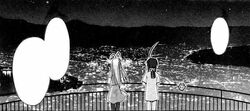 Hakodate (函館市, Hakodate-shi) is a city and port located in Hokkaidō, Japan. In the early 19th century, as one of few points of Japanese contact with the outside world, Hakodate was host to several overseas consulates. The Russian consulate included a chapel from where Nicholas of Japan is credited with introducing Eastern Orthodox Christianity to Japan in 1861 (now the Japanese Orthodox Church). The Orthodox church is neighbored by several other historical missionary churches, including Anglican and Catholic.
The city is overlooked by Mount Hakodate; a lumpy, forested mountain whose summit can be reached by hiking trail, cable car, or car. The night view from the summit is renowned in Japan as one of the best in the country, and one of the top three in the world along with Hong Kong and Naples.
Naru Narusegawa and Kanako Urashima travel as far as Hakodate together on the Shinkansen during Naru's attempted fleeing from her relationship with Keitaro.
Location Design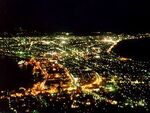 Background images of Hakodate are based on images of Hakodate port, Hakodate Motomachi Park, the Motomachi Catholic Church (built in 1908), view of the city from Mount Hakodate, the Hakodate China House (the only remaining pure Chinese building in Japan. Completed in 1910.), and the Old Hakodate District Public Hall (1910).
Gallery
External Links
Community content is available under
CC-BY-SA
unless otherwise noted.