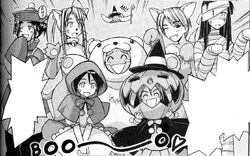 Halloween is an annual holiday observed on October 31, primarily in Ireland, Scotland, Canada and the United States. It has roots in the Celtic festival of Samhain and the Christian holiday All Saints' Day, but is today largely a secular celebration.
Common Halloween activities include trick-or-treating, wearing costumes and attending costume parties, carving jack-o'-lanterns, ghost tours, bonfires, apple bobbing, visiting haunted attractions, committing pranks, telling ghost stories or other frightening tales, and watching horror films.
History
Historian Nicholas Rogers, exploring the origins of Halloween, notes that while "some folklorists have detected its origins in the Roman feast of Pomona, or in the festival of the dead called Parentalia, it is more typically linked to the Celtic festival of Samhain.
The ancient Celts believed that the border between this world and the Otherworld became thin on Samhain, allowing spirits to pass through. The family's ancestors were honoured and invited home while harmful spirits were warded off. It is believed that the need to ward off harmful spirits led to the wearing of costumes and masks. Their purpose was to disguise oneself as a harmful spirit and thus avoid harm. In Scotland the spirits were impersonated by young men dressed in white with masked, veiled or blackened faces. Samhain was also a time to take stock of food supplies and slaughter livestock for winter stores. Bonfires played a large part in the festivities. All other fires were doused and each home lit their hearth from the bonfire. The bones of slaughtered livestock were cast into its flames. Sometimes two bonfires would be built side-by-side, and people and their livestock would walk between them as a cleansing ritual.
The word Halloween is first attested in the 16th century and represents a Scottish variant of All-Hallows-Even ("evening"), the night before All Hallows Day.
Development of artifacts and symbols associated with Halloween formed over time encompassing customs of medieval holy days as well as contemporary cultures. The souling practice of commemorating the souls in purgatory with candle lanterns carved from turnips, became adapted into the making of jack-o'-lanterns. In traditional Celtic Halloween festivals, large turnips were hollowed out, carved with faces, and placed in windows to ward off evil spirits.[5] The carving of pumpkins is associated with Halloween in North America where pumpkins are both readily available and much larger – making them easier to carve than turnips. Many families that celebrate Halloween carve a pumpkin into a frightening or comical face and place it on their doorstep after dark. The American tradition of carving pumpkins preceded the Great Famine period of Irish immigration and was originally associated with harvest time in general, not becoming specifically associated with Halloween until the mid-to-late 19th century.
Gallery
Community content is available under
CC-BY-SA
unless otherwise noted.