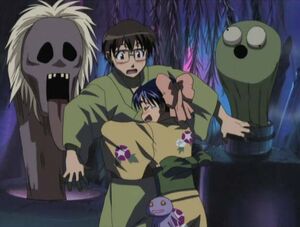 A Haunted House is a type of staged attraction designed to simulate the experience of entering a location that is inhabited by ghosts, monsters, criminals, serial killers, or other life-threatening subjects based on the horror or supernatural genre.
A staple attraction that can be found within most carnivals or theme parks, haunted houses use intense lighting (strobe lights, black lights, and so forth), animatronics, CGI, scent dispensers, fog machines, air blasters, old antiques, unsettling images, and intense scenes of terror or torment to simulate a horror-filled environment.
Visitors may also come into contact with various actors within the attraction, dressed up in elaborate costumes, masks, and prosthetics to further enhance the environment by performing skits or otherwise hiding and jumping out unexpectedly to scare, shock, or otherwise disturb the visitor.
Location Design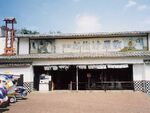 The Haunted House shown in the Hinoshima Summer Festival was based on a haunted house in a park in Tama, Kawasaki. The park closed down in March 2002.

Gallery
Other Appearances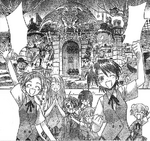 Negima! Magister Negi Magi
Main Article: Class 3-A Haunted House
In Negima! Magister Negi Magi, Class 3-A convert their classroom into a Haunted House, which they host during the Mahora Academy School Festival.

Trivia
The Haunted House, alongside the Café, is a popular choice that school classes may choose to exhibit during a School Festival in Japan.
The Haunted House is a popular "date spot" as it is believed that a lot can be revealed about a relationship when they are scared; such as wether or not they rely on each other for emotional support when under duress. As such the attraction itself often serves as a test for the relationship.
Community content is available under
CC-BY-SA
unless otherwise noted.