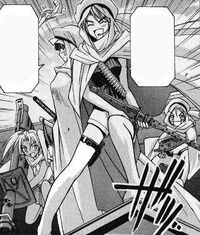 The Hinata House Liberation Front is a rebellion group formed by Mitsune Konno, Motoko Aoyama, Kaolla Su, Shinobu Maehara and Sarah McDougal against Kanako Urashima and her plans of turning Hinata House into Hinata Inn.
The group was formed after Kanako attempted to purge the girls' feelings for her brother, Keitaro Urashima. Instead of complying, the girls rebelled and chased Kanako out of Hinata House.
Kanako, with Naru Narusegawa and Mutsumi Otohime in tow, formed a counter-attack; believing that Mitsune was the Promise Girl that Keitaro had suffered so much to meet again. Attempting to destroy the entire establishment, Kanako's plan was thwarted by the timely arrival/crash of Seta's Van; driven by Keitaro.
Gallery
Community content is available under
CC-BY-SA
unless otherwise noted.