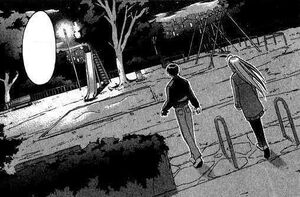 Found off of a side-staircase from Hinata House, the children that stayed at the apartments while it was still an Inn used to play in the sandbox of this park and was the site of the promise between Naru, Keitaro and Mutsumi.
Years later, in the manga, Keitaro would rediscover the park and its sandbox while staying at the all-girls dormitory.
In the anime the park's sandbox in particular acts as a representation of Keitaro's childhood promise. It also acts as symbol for Motoko to start playing with her friends instead of acting serious all of the time (Episode 8).
Gallery
Community content is available under
CC-BY-SA
unless otherwise noted.