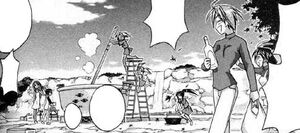 The Hinata Potato Cooking Party is a public outdoor cookpot gathering conducted by the Hinata Inn during the Autumn months around or during Halloween. It is usually held in a lakeside clearing overlooking a waterfall on the eastern-side of the Inn's estate.
As the Inn's popularity died down, so too did the popularity of the cooking party. After Mutsumi's arrival to Hinata, the Hinata Residents decided to revive the event after a previous two year absence.
Traditionally, the party revolves around the attendance of an oversized cookpot and grill, within which the cooking party's main course, usually potatoes or yams, are prepared and stewed along with meat and other vegetables.
While additional foods brought by party-goers are welcome as side-dishes, they can not be added to the main course cookpot.
Gallery
Trivia
A potato soup party is a seasonal event held in the northeastern regions of Japan. A group would get together at a riverbed during Autumn and make soup using Taro.
Community content is available under
CC-BY-SA
unless otherwise noted.