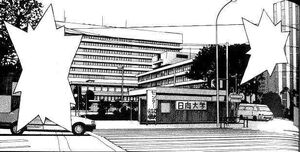 Hinata University is the local university in the city of Hinata.
It is here that Keitaro Urashima and Naru Narusegawa sat their Center Exam for Tokyo University, although they almost missed attending it the first time due to hitching a ride in the back of a delivery truck. In their second attempt they attended their Center Exam here with Mutsumi Otohime.

Location Design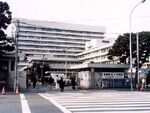 Hinata University is based on Keio University Hospital in Shinjuku, Tokyo.
The shops that appeared behind Naru and Keitaro after they were unloaded from the back of a delivery truck while attempting to get to Hinata University to attend their exams is based on the Mabashi Matsudo store, Chiba Prefecture. It has currently become a video shop.

Gallery
Community content is available under
CC-BY-SA
unless otherwise noted.