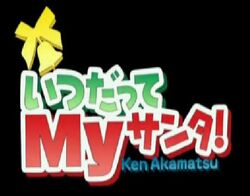 Itsudatte My Santa! (いつだってMyサンタ!, lit. Always My Santa!) is a manga, later turned anime OVA, created by Ken Akamatsu.
Originally a one-chapter production, it ran in Japan before Akamatsu's Love Hina manga was serialized. It ran in Shōnen Magazine in 1998, and was serialized in volumes 4 and 5.
An anime OVA, with two episodes, was released on December 7, 2005 in Japan. As of January 25, 2007, the anime OVA has been licensed in the United States by FUNimation, and was scheduled to be released in the USA on December 11, 2007. However, the video was recalled when it was discovered that, due to a misprint, the DVD was labeled TV-PG when it was intended to be TV-MA. FUNimation announced that they plan a re-release for the 2008 holiday season.
Plot
A girl called Mai appears before a boy who happens to hate Christmas. As it turns out he was born on December 24 and thus was named Santa, causing him to hate the holiday. Moreover, as a child, he never had any festive occasions, such as birthday parties. With the power of Christmas, Mai is given the mission to improve his luck and change his views for the better.
Production
Media
Anime
Two OVAs were created following the release of the one-shot manga. Episode 1: My Santa followed the storyline of the manga while Episode 2: Merry Christmas Once More followed a new storyline with additional characters added to the cast.
Akamatsuverse Cameos
Main article: Love Hina Cameo List
The Yakuza Thugs that beat up on Santa for ruining their Christmas make various appearances in the Love Hina manga.
A promotional image exists of Mai standing alongside Naru Narusegawa and Saati from A.I. Love You.
Mai's pet reindeer, Pedro, appears in Chapter 9 of Love Hina as a print on a Christmas card to Naru from Keitaro Urashima.
Cameo Gallery
Gallery
Trivia
The manga of Itsudatte My Santa! only tells the story of Christmas, when Santa meets Mai. The anime adds a second episode with a whole new story.
At the end of Episode 2 of the OVA, there is a preview of an Episode 3, though this 3rd episode was in fact a joke (revealed at the end of the preview).
In the anime, many more major characters are introduced. These characters include Sharry (also known as Shirley), MaiMai, and Noel. The manga only has the two original characters, Santa and Mai.
Community content is available under
CC-BY-SA
unless otherwise noted.