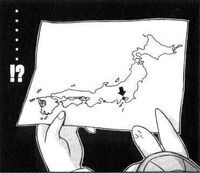 Japan is a prominent Asian country located to the East of Korea in Pacific Ocean. The country is famed globally for, amongst other things, their historic warriors; the Samurai and Ninja, their volcanic hotsprings, and for being the birthplace of the anime and manga pop-culture movement.
Despite being a major economic power and possessing the world's tenth-largest population, the country of Japan is actually an archipelago of 6,852 islands, the four largest of which make up the country's "mainland".
History
Japan was first estimated to have become inhabited around 30,000 BC. By 14,000 BC, a Neolithic hunter-gatherer culture had developed which was characterized by pit dwelling and rudimentary agriculture, the clay vessels of which are some of the oldest surviving examples of pottery in the world. Around 300 BC, influence from overseas cultures such as China and Korea began to develop, introducing the practices of wet-rice farming and metallurgy, kick-starting the country's Iron Age. Shamanism and divination by oracles in order to guarantee good crops were also introduced at this time.
250 AD saw the establishment of military states, each of them concentrated around a powerful clan. Japan also started to send tributes to Imperial China in the 5th century and based their central administration on the one used by the Chinese model with an imperial court system. Large tumulus burial mounds were created to bury prominent leaders and emperors similar in nature to the ancient pyramids of Egypt.
Buddhism was introduced to Japan in 538 and was promoted largely by the ruling class for their own purposes until 594 when, with the addition of Confucianism that focused on the morals and virtues that were to be expected of government officials and the emperor's subjects, Buddhism became a permanent part of Japanese culture and led to the discontinuance of tumulus burial mounds.
Locales
Location Design
The Japan as shown in the Akamatsuverse is based on the real-world country of Japan.
Other Appearances
A.I. Love You
The story of A.I. Love You occurs within Japan.
Itsudatte My Santa
The story of Itsudatte My Santa! occurs within Japan.
Negima! Magister Negi Magi
Japan is one of the primary locations where the story of Negima! Magister Negi Magi occurs.
UQ Holder!
The story of UQ Holder! occurs within Japan.
Trivia
Links
Japan Wikipedia