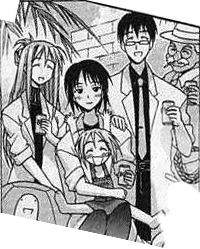 Julia McDougal is the biological mother of Sarah McDougal and the companion of Haruka Urashima and Noriyasu Seta during their past archaeological adventures.
Plot
First meeting Haruka and Seta while attending Tokyo University, the trio quickly formed a bond and took up working as excavation assistants for Nyamo Namo's grandfather; traveling across the globe and becoming embroiled in various adventures. After a while, the three become involved in a love triangle; with both Julia and Haruka vying for Seta's attention.
While initially ignorant of their interest, Seta makes a promise that, by the time he was thirty, he would make up his mind and choose one of them as his love, however, Julia passed away soon after due to an unknown event.
The relationship between Haruka and Seta deteriorated soon after and Haruka returned to work at the Hinata Inn while Seta continued his excavation adventures.
Gallery
Trivia
Julia's daughter, Sarah, traveled with her mother and Haruka Urashima and Noriyasu Seta, before Julia's death. Instead of being passed on to her uncle, Seta was given custody of Julia's daughter and the duo formed a bond as Seta continued his archaeological adventures; turning into a pseudo-father/daughter team. In the anime it is revealed that Seta gained custody of Sarah after she had spent some time with, and was abused by, her uncle.
Unknown to Haruka, Seta had made a promise to Julia to continue her work and return a stolen antique vase to its rightful owners. A vast majority of his time in researching the Turtle Civilization was done in order to locate the vase's original home, at the Todai Ruins in the Kingdom of Molmol, and fulfill this promise.
Julia shares her family name with Cynthia McDougal from Ken Akamatsu's previous manga series A.I. Love You.
Community content is available under
CC-BY-SA
unless otherwise noted.