Kagoshima (鹿児島市) is the capital city of Kagoshima Prefecture at the south-western tip of the Kyushu, Japan. A prominant port city in Japan's history, it has been nicknamed the "Naples of the Eastern world" for its bay location, hot climate and impressive stratovolcano, Mount Sakurajima, that can be seen from across the bay.
Keitaro Urashima, Naru Narusegawa and Mutsumi Otohime travel through Kagoshima on their way to Mutsumi's home near Okinawa.
Locations
Location Design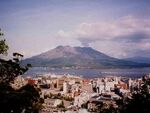 The landscape shown of Kagoshima was based on the view from the Sakurazima Shiroyama observatory.
The restaurant that Keitaro, Naru and Mustumi go to is based on the original appearance of a Satsuma Shabu Shabu restaurant in Nakamachi 1-10-8, Urawa Ward, Saitama City.
Gallery
External Links
Community content is available under
CC-BY-SA
unless otherwise noted.