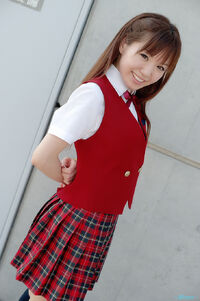 Toshiko "Kanon" Akamatsu (赤松 佳音) is a Japanese Pop Idol-turned model/professional cosplayer born on the 24th of August, 1979. Born in Tokyo, she graduated from Kunitachi College of music, majoring in singing. During her career she met and later married mangaka Ken Akamatsu in July, 2002.
During her career, Kanon created the pop song Sorega Kanoriyu which was released in Japan in 2007. The song goes for 4 minutes and 30 seconds.

Gallery
Trivia
Kanon's Blood Type is B.
During the writing of Negima! Magister Negi Magi, Kanon was noted for her frequent insistence that Ken take "hiatus" periods from his work. Due to the frequency of which this notation appears in Akamatsu's blog, the meme "Akamatsu's Wife Demands Hiatus!" was eventually created.
It has been said that some of Naru Narusegawa's outfits were modeled off of actually outfits worn by Kanon. Kanon herself has also served as the model for Asuna Kagurazaka from Negima! Magister Negi Magi.
Kanon is 11 years younger than Ken.
External Links