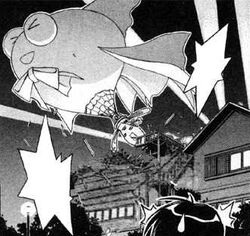 Kaolla's Air Balloon is a themed-Air Balloon built and used by Kaolla Su when she attempted to run away from the Hinata House.
Filled with buoyant gas (presumably hydrogen or helium), the balloon's appearance is based on a Koi or a similar type of fish. With it's hangar located at the bottom of the lake within the Hinata House complex, the balloon is presumably intended as an escape vehicle for Kaolla.
Following a series of misunderstandings that led to her believing that both her brother and Keitaro no longer liked her, Kaolla attempted to run away onboard the balloon. However, Keitaro managed to board the balloon while in flight and convinced her to stay.
Unfortunately, while onboard, Keitaro accidentally tripped the balloon's self destruct device, resulting in the balloon catching fire while in the air. Falling from the balloon, Keitaro was only saved when Kaolla transformed into Adult Su and floated to the ground with him.
Gallery
Trivia
When Kaolla's Air Balloon launches from the Hinata House complex's lake, Sarah McDougal declares that it is like a scene from Tenchi-Muyo.
Community content is available under
CC-BY-SA
unless otherwise noted.