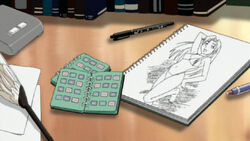 As a hobby, Keitaro Urashima kept a sketchbook within which he would keep drawings of various women in different poses, the majority of which are in swimsuits.
While attempting a sketch of Shinobu Maehara, his book was taken from him by the Hinata Elders in jest and ended up in Shinobu's possession, with which she would repeatidly attempt to return to Urashima, however, it is unknown whether she does eventually manage to return it to him.
Gallery
Trivia
Keitaro's drawing skills eventually result in him being able to obtain a temporary job at Studio Akamatsu.
Community content is available under
CC-BY-SA
unless otherwise noted.