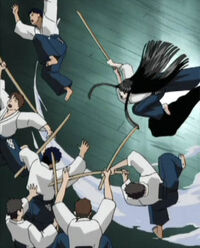 A Kendo Club is usually a martial arts high school club in Japan created around the study and practise of the martial art of Kendo. Similar to dojos and western martial art groups, such clubs are able to attend official martial art competitions as well as being considered a school sport.
Motoko attends a Kendo Club as part of her high school club activities.
In Japan each school has a variety of clubs ranging from the practical (sports, class-room oriented) to the mundane (anime fangroups) and traditional (tea ceremonies, origami) all created and run by the student body.
Kendo is a modern Japanese martial art based on traditional samurai swordsmanship that has been converted into a modern sport similar to Fencing. The art's traditional weapon is usually the shinai; a Japanese "sword" made out of bamboo, however, the bokken; a Japanese "wooden sword" usually made out of oak, is also sometimes used.
Gallery
Trivia
In one of her original concepts, Motoko was to be the club leader of her school kendo club and was classified simply as "Kendo" until her name was developed.
Community content is available under
CC-BY-SA
unless otherwise noted.