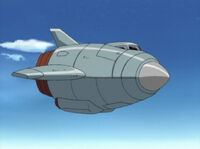 Appearing only in episode 7 of the anime and the Spring Special, Kentaro's Vehicle is an invention produced from his father's company. It is a multi-purpose transport with land, air and drilling capabilities; capable of flight, traversing over land and drilling underground.
First used in the intention of impressing Naru, Kentaro later used it to travel to Pararakelse on Naru's request where, getting caught in a migrating flock of Hot Springs Turtle, it crash landed in the Parakelese desert.
Though it possessed offensive capabilities thanks to its land speed and drill head, the vehicle was destroyed when it attempted to go up against an animated turtle statue and was crushed underfoot.

Gallery
Trivia
When the Hinata Elders first saw the vehicle, they thought the town was being invaded.
Community content is available under
CC-BY-SA
unless otherwise noted.