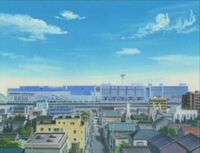 Kyoto Station (Kyoto-eki), located in Kyoto, is the second-largest train station in Japan and one of the country's largest buildings.
In addition to trains the station also has a shopping mall, hotel, movie theater, museum, the Isetan department store, tourist information centers, restaurants, shops and several local government facilities under one 15-story roof.
Opening in 1997, it is 70 meters high and 470 meters from east to west, with a total floor area of 238,000 square meters. Architecturally, it exhibits many characteristics of futurism, with a slightly irregular cubic facade of plate glass over a steel frame.
Location Design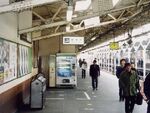 While they are depict as being in the Kyoto Station, the train station in which Naru and Keitaro are seen by Shinobu and Kaolla is based on the Tokyo JR "Aqueduct Station" and "Ochanomizu Station", both of which are located in the Chiyoda ward.
Other Appearances
Negima! Magister Negi Magi
Main Article: Kyoto Station
Gallery
Trivia
In its appearance in the Love Hina anime, the station's ground floor is wardened off by construction barriers.
Some Kyoto residents were largely reluctant to accept such an ambitious structure in the mid-1990s; the station's completion began a wave of new high-rise developments in the city that culminated in the 20-story Kyocera Building. Some criticize that the station was responsible for breaking down the city's traditional cityscape.
The station was designed by former Tokyo University professor, Hiroshi Hara, who won an international competition to decide the design of the station.
Community content is available under
CC-BY-SA
unless otherwise noted.