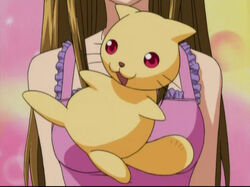 Liddo-kun, also known as Mr. Chupi in the English Dub of the anime, is a squirrel-like cartoon character popular during Keitaro Urashima's childhood.
Starring in the anime cartoon show, "Liddo-kun's Big Adventure" (known as "Mr. Chupi and Friends" in the English version, and "Liddo & Friends" in the English subtitle), Liddo-kun has two additional friends (dubbed "The Professor" and "The Dummy") who accompany him on his adventures.
Naru Narusegawa, Keitaro and Mutsumi Otohime are all old fans of the series, however, while they can accurately recite the show's theme song, each have varying recollections of Liddo-kun's adventures.
In Mutsumi's recollections the trio would often come to an unfortunate end, such as being boiled in a pot all together, or The Professor and Big Dummy eating Liddo when they were starving during a snowstorm.
Liddo-kun Doll
Naru keeps a plush Liddo-kun doll which was given to her as a child by Keitaro, which was given to him by Mutsumi, although through much of the series she remembers only that it was given to her by "a friend". She later discovers the identity of the original owner was written on the plush's bottom. The plush usually sits on a board covering the hole between Naru and Keitaro's room.
Gallery
Other Appearances
Negima! Magister Negi Magi
In Negima! Magister Negi Magi, Liddo-kun and friends appear as carnival mascots during the Mahora Academy School Festival.
Trivia
In Love Hina Again the doll makes a squeeky sound when squeezed or kicked, however it does not in the Love Hina anime.
Naru also made a chocolate in the shape of Liddo-kun for Valentine's Day, which Keitaro initially believed to be Avant-garde-art since it was partially melted from standing in a cupboard.
Keitaro, Naru, and Mutsumi seemingly are identical to Liddo-kun and his friends (Keitaro to Liddo-kun, Naru to The Professer, and Mutsumi to The Dummy).
Community content is available under
CC-BY-SA
unless otherwise noted.