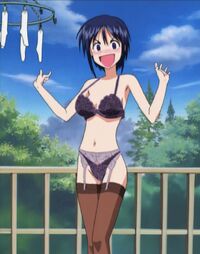 Lingerie is a term used for fashionable and alluring undergarments. While the term in the French language applies to all undergarments for either gender, in English it is applied specifically to those undergarments designed to be visually appealing or erotic.
Lingerie usually incorporating one or more flexible, stretchy materials like Lycra, nylon (nylon tricot), polyester, satin, lace, and silk which are not typically used in basic cotton undergarments.
History
The concept of lingerie was developed during the late nineteenth century where Lady Duff-Gordon of Lucile was a pioneer in developing lingerie that freed women from the then more restrictive corsets. Before the invention of crinoline, women's underwear was often very large and bulky. During the late 19th century, corsets became smaller, less bulky and constricting, and were gradually supplanted by the brassiere, first patented in the 20th century by Mary Phelps Jacob. When the First World War broke out, women found themselves filling in men's work roles, creating a demand for more practical undergarments. Manufacturers began to use lighter and more breathable fabrics.
As the 20th century progressed, underwear became smaller and more form fitting. In the 1960s, lingerie manufacturers such as Frederick's of Hollywood begin to glamorize lingerie. The lingerie industry expanded in the 21st century. The boutique Faire Frou Frou categorized lingerie as an accessory with details such as straps and lace trim resulting in their modern appearance.
Gallery
Trivia
According to Love Hina Mugendai, Mitsune showed off lingerie 20 times throughout the manga's run.
Community content is available under
CC-BY-SA
unless otherwise noted.