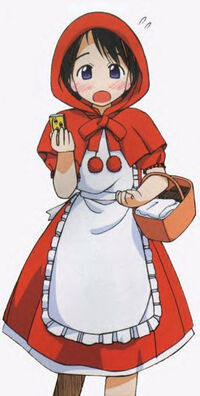 The Little Match Girl is a short story by Danish poet and author Hans Christian Andersen, about a poor girl who dies on the street while attempting to sell matches for money. While in Kyoto, Shinobu Maehara inadvertantly impersonates this girl while attempting to raise money to get back to Hinata.
The story is set on a cold New Year's Eve, where a poor girl tries to sell matches in the street. While freezing badly, she is afraid to go home because her father will beat her for not selling any matches. She takes shelter in a nook and lights the matches to warm herself. In their glow, she sees several lovely visions including a Christmas tree and a holiday feast. The girl looks skyward, sees a shooting star, and remembers her deceased grandmother saying that such a falling star means someone died and is going into Heaven. As she lights her next match, she sees a vision of her grandmother, the only person to have treated her with love and kindness. She strikes one match after another to keep the vision of her grandmother nearby for as long as she can. The child eventually seccumbs to the cold, falls asleep and her grandmother carries her soul to Heaven. The next morning, passers-by find the dead child in the nook.

Gallery
Trivia
The story was first published in 1845. It has since been adapted to various media including animated film, and a television musical.
Community content is available under
CC-BY-SA
unless otherwise noted.