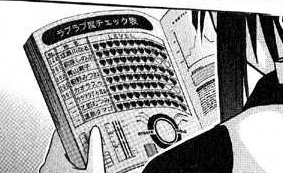 The Love-Love Degree Graph is a graphical survey Kanako Urashima conducted on how much each member of the Hinata Residents loved her brother, Keitaro Urashima.
Initially intending to observe and conduct the survey in secret, she later furthered her research via a "service-trial" in which each member had to demonstrate their serving abilities with Mutsumi Otohime impersonating their "costumer" Keitaro.
After discovering how much each girl had feelings for her brother, Kanako attempted to force them into abandoning their feelings for him which resulted in the girls mutineering against her.
Results
The results of the survey were as follows: (The base number (50) denotes a friendship level of love)
Naru Narusegawa - 76
Kaolla Su - 70
Shinobu Maehara - 69
Motoko Aoyama - 67
Mitsune Konno - 65
Sarah McDougal - 62
Tama - 60
Gallery
Trivia
Such "graphs" are common in Dating Simulation video games, where the goal is to get various characters to fall in love with the player character. The player views these graphs to see how "far" they are with each character.
Community content is available under
CC-BY-SA
unless otherwise noted.