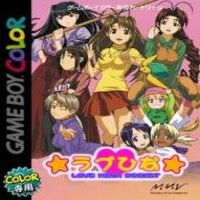 Love Hina: Pocket is an Adventure game based on the Love Hina manga franchise, published by Marvelous Entertainment for the Game Boy Color. It was released in Japan on August 4, 2000.

Gameplay
The player is Keitaro Urashima, who has 7 days to do various things in the game, and win the heart of the girl he wants to get. The first six days, Keitaro does various things, such as talk to the girl and say the right thing or do the right thing to make the girl happy. The player can choose any of the girls living at the Hinata-sou: Naru, Mutsumi, Shinobu, Kaolla, Motoko, Kitsune, Sarah, and even Haruka (though she is apparently related to him). When Keitaro does or says something right, a sound effect that is going up in tone is sounded, and the girl's feelings toward him increase. When Keitaro does or says something wrong, a sound effect that is going down in tone is dounded, and the girl usually winds up hitting him, and the girl's emotions to him
Feelings Measurement
1-2 hearts: She hates Keitaro
3-4 hearts: She is Neutral toward Keitaro.
5-6 hearts: She likes Keitaro, and the picture may have her blushing.
7-8 hearts: She is in love with Keitaro, and the picture definitely has her blushing.
Some girls, like Motoko, take a lot of work to get their feelings up. Others, like Shinobu, are easier to get her feelings up. If the player ignores a girl, some girls will continue to keep their feelings up, while other girls will gradually lose their feelings if ignored.
Sometimes a subgame comes into play as Keitaro gets closer to a girl. He had better play this game right or else. Each girl has their own subgame.
As the girls feelings increase toward Keitaro, they are likely to do nice things for him. For example, Shinobu will cook dinner for him.
On the 7th day, all the girls are talking and Keitaro has to make a choice. If he chooses a girl whose hearts are not enough, Keitaro gets humiliated and the game is lost. If he chooses a girl who has 7 or 8 hearts, he wins the game, and the game ends with a picture of the girl in a swimsuit, on the beach. The player then has an option to start the game over again, but the feelings carry over.
Gallery
Trivia
Community content is available under
CC-BY-SA
unless otherwise noted.