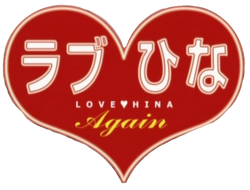 Love Hina Again (ラブひな Again Rabu Hina Agēn) is a series of three OVA (Original Video Animation, eg. not aired on TV) episodes following the original anime series. While the series featured a new production team from those who worked on the original Love Hina anime, they retained the original seiyuu cast and still received input from Ken Akamatsu.
Released in Japan in early 2002, the OVA was released on three seperated DVDs ("Kanako" (可奈子), "Keitarō" (景太郎), "Naru" (なる)) with the first released in January 26, the second in February 28 and the third in March 27. The North American and United Kingdom releases of Love Hina Again grouped the 3-parts together on one disc and were released on September 2, 2003 and January 7, 2008 respectively.
Episode List
Gallery
Trivia
The opening theme for the OVA was Kirari Takaramono (キラリ☆宝物, "Glittering Treasure"), written by Itou Chika, Goshima Shou and sung by Yui Horie). The ending theme was Be for You, Be for Me which was also written by Itou Chika, Goshima Shou. A CD single featuring the two songs was released on February 28, 2002.
The OVA was originally supposed to be filler between the first season and the planned second season, but the second season was cancelled and the OVA thus left with an ending completely different from the original manga.
The OVA is roughly based on the manga starting with Chapter 89 with the Kanako Arc, and continuing up until just before the start of the Molmol Arc.
In Love Hina Again: Kanako, Keitaro makes reference to events that occured in the Love Hina Spring Special: I Wish Your Dream and Love Hina X-mas Special: Silent Eve OVAs. Shinobu also makes reference to the ending of the Spring Special in the same episode.
Love Hina Again: Keitaro is the first time the Naru Punch is refered to by name, by Keitaro no less.
Links
Community content is available under
CC-BY-SA
unless otherwise noted.