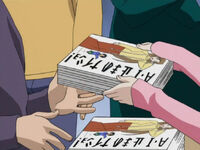 For the Love Hina manga series: see Love Hina (manga).
Manga are comics or print cartoons that either originate from Japan or conform to a drawing style developed in Japan in the late 19th century shortly after World War II.
Originating in Japan, the medium caters to a wide range of audiences and possesses a broad range of genres: Action-Adventure, Romance, Sports and Games, Historical Drama, Comedy, Science Fiction and Fantasy, Mystery, Horror, Sexuality, Parody, and Business/Commerce, among others.
Manga is typically printed in black-and-white, although some full-colour manga exist also. In Japan, manga are usually serialized in large magazines which often contain many manga stories from different authors. Each manga is presented in a single episode per magazine, with the next episode to be continued in the magazine's next issue (much like a western newspaper comic). If the series is successful, collected chapters may be re-published into paperback books called Tankōbon. If a manga series is popular enough, it may also be converted into an anime series after or even during its run.
A professional manga artist (called a "Mangaka") typically works with a small group of assistants (known as a "Circle") in a small studio and, if their manga is published in a magazine, is associated with a creative editor from a commercial publishing company.
Gallery
Trivia
Since the 1950s, manga has steadily become a major part of the Japanese publishing industry, representing a 406 billion yen market in Japan in 2007 (approximately $3.6 billion).
Manga from amateur manga artists, or those unaffiliated with a magazine, are known as "Doujinshi". Doujinshi are often self published and sold at Manga, Anime and Game conventions throughout Japan. Most professional Mangaka start off by writing Doujinshi, publishing and selling them at conventions such as Comiket.
Community content is available under
CC-BY-SA
unless otherwise noted.