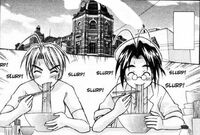 Morioka (盛岡市, Morioka-shi) is the capital city of the Iwate prefecture of Japan.
Founded in 1597 by Nobunao, the 26th lord of the Nanbu clan, as a castle town. Kozukata Castle was built here (later changed to Morioka Castle in the 17th century) until, in the Boshin War, the Nanbu made a pro-shogunate alliance and fought against the Imperial forces. As a consequence Morioka castle was destroyed in 1874.
Locations
Hoonji Temple
Ruins of Morioka Castle
Location Design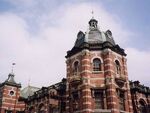 Background images of Morioka are based off of the city's national landmark, Iwate Bank (Built in 1911), a Morioka Hachiman Shrine, and the ruins of Morioka Castle.
Gallery
Trivia
Morioka attracts tourists with local noodles such as Jajamen, Reimen, and Wanko Soba. Brewing is also a thriving industry of the city.
External Links
Community content is available under
CC-BY-SA
unless otherwise noted.