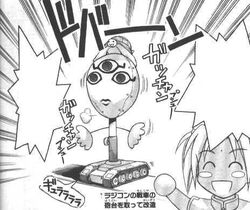 Mr Cherry, called "Krishna" in the manga, is a robot designed and created by Kaolla Su for the purpose of teaching Shinobu Maehara how to kiss. The sensor in its head searches for the target's face and delivers a kiss. The motor in its mouth rotates cherries to add to the kissing experience.
Controlled by remote, the robot uses the traction treads from Su's Toy Tanks to chase after its target.

Gallery
Trivia
In the Love Hina: Secrets at Hinata Hotel novel, Kaolla replaces Krishna's tank body with a humanoid NASA-grade titanium frame with artificial muscles made of silicon; naming it INDRA after the Hindu god of war. She would later further modify the machine into what would become Mecha Keitaro.
Community content is available under
CC-BY-SA
unless otherwise noted.