The Naked Apron, also called Hadaka Apron, is the practice of wearing a conventional apron over a nude body. It is a popular concept for both pornography and Fanservice.
History
The practice was originally seen on erotic pin-up pictures during World War II; titillating shots of women in otherwise normal domestic situations, such as cooking or cleaning. These images, among others, were emulated by Japanese artists during the time when Manga began to develop as an art form and became a part of the country's visual culture.
The design of the practice is based on the theme of domestic sexuality involving levels of modesty, seduction, and submissiveness; the idea of a woman subtly seducing her lover by surprising him that behind the apron she isn't wearing anything. The practice is frequently used in the media for erotic surprises; allowing the character to appear with modesty preserved from the front but with a risqué surprise for the viewer when they turned around.
While the practice largely entails that the practitioner is naked underneath the apron, variants can feature the practitioner wearing undergarments, Lingerie, or a swimsuit underneath instead.
Gallery
Other Appearances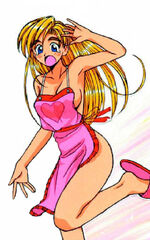 A.I. Love You
Main Article: Naked Apron
While trying out some newly programmed clothes from Hitoshi, Saati accidentally downloaded the Naked Apron file and transformed into it on a public beach.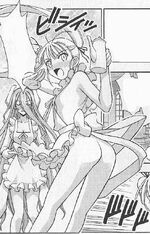 Negima! Magister Negi Magi
Main Article: Naked Apron
Setsuna Sakurazaki's Cosmo Entelecheia reality had her living with Konoka Konoe who woke up half asleep and put on a naked apron to make Setsuna breakfast.
In an attempt to attract Fate, Homura and Shirabe put on naked aprons to gain his attention.

Trivia
The practice is extremely popular among couples in Japan, as it is considered a traditional form of foreplay between newlyweds. As such, it comes up extremely often in Anime and Manga for Fanservice, especially in Harem anime and Magical Girlfriend shows.
Community content is available under
CC-BY-SA
unless otherwise noted.