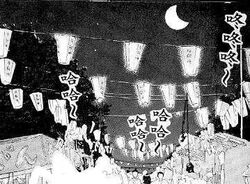 Obon is a Japanese Buddhist custom to honor the spirits of one's ancestors. This Buddhist-Confucian custom has evolved into a family reunion holiday during which people return to ancestral family places and visit and clean their ancestors' graves. It is also the time when the spirits of ancestors are supposed to revisit the household altars.
The festival of Obon lasts for three days; however its starting date varies within different regions of Japan due to when the lunar calendar was changed to the Gregorian calendar at the beginning of the Meiji era.
Shichigatsu Bon (Bon in July) is based on the solar calendar and is celebrated around the 15th July in eastern Japan (Tokyo, Yokohama and the Tohoku region).
Hachigatsu Bon (Bon in August) is based on the lunar calendar and is celebrated around the 15th of August. This is the most commonly celebrated time.
Kyu Bon (Old Bon) is celebrated on the 15th day of the seventh month of the lunar calendar, and so differs each year. It is celebrated in areas like the northern part of the Kantō region, Chūgoku region, Shikoku, and the Ryukyu Islands.
Legend
Maha Maudgalyayana (Mokuren), a disciple of the Buddha, used his supernatural powers to look upon his deceased mother. He discovered she had fallen into the Realm of Hungry Ghosts and was suffering. Greatly disturbed, he went to the Buddha and asked how he could release his mother from this realm. Buddha instructed him to make offerings to the many Buddhist monks who had just completed their summer retreat, on the fifteenth day of the seventh month. The disciple did this and, thus, saw his mother's release. He also began to see the true nature of her past unselfishness and the many sacrifices that she had made for him. The disciple, happy because of his mother's release and grateful for his mother's kindness, danced with joy. From this dance of joy comes Bon Odori or "Bon Dance", a time in which ancestors and their sacrifices are remembered and appreciated.
Gallery
Trivia
Obon has been celebrated in Japan for more than 500 years and traditionally includes a dance, known as Bon-Odori.
The three days where Obon is considered to occur are not listed as public holidays but it is customary that people are given leave.
Community content is available under
CC-BY-SA
unless otherwise noted.