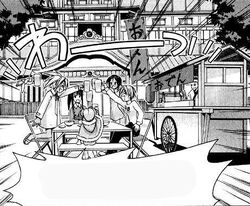 Oden (おでん) is a Japanese winter dish consisting of several ingredients such as boiled eggs, daikon radish, konnyaku, and processed fish cakes stewed in a light, soy-flavoured dashi broth. Ingredients vary according to region and between each household. Karashi (Japanese mustard) is often used as a condiment.
Oden is often sold from food carts, known as Yatai (屋台, Shop Stand), and most Japanese convenience stores have simmering oden pots in winter. Many different kinds of oden are sold, with single-ingredient varieties as cheap as 100 yen.
Gallery
Trivia
Yatai carts are small, mobile food stalls that typically sell ramen or other food. They are usually set up in the early evening on pedestrian walkways and removed late at night or in the early morning hours before commuters begin to fill the streets. A salaryman might relax with colleagues over dinner and drinks at a yatai on his way home from work.
Community content is available under
CC-BY-SA
unless otherwise noted.