The Okinawa islands (沖縄県,Okinawa-ken, Uchinaa-ken) consist of hundreds of the islands in a chain over 1,000 km long, extending southwest from the southwestern-most point of Japan to Taiwan.
Okinawa's capital, Naha, is located in the southern part of the largest and most populous island, Okinawa Island.
The Otohime Family live on one of these islands; running a small holiday inn which Keitaro and Naru visit in the manga.

Location Design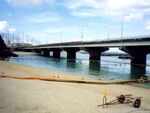 The bridge and beach where Mutsumi, Keitaro and Naru set off for Mutsumi's home from in Okinawa is based on the bridge found on the beach of the city of Naha, capital of Okinawa.The girders of the bridge were hand made.

Gallery
Community content is available under
CC-BY-SA
unless otherwise noted.