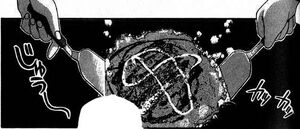 An Okonomiyaki is a Japanese savory pancake that traditionally contains a variety of ingredients. Okonomiyaki is mainly associated with Kansai or Hiroshima areas of Japan, but is widely available throughout the country. Toppings and batters tend to vary according to region.
Trivia
The name is derived from the word okonomi, meaning "what you like" or "what you want", and yaki meaning "grilled" or "cooked".
Okonomiyaki is sometimes compared to an omelette or a pancake and may be referred to as a "Japanese pizza" or "Osaka soul food".
Some okonomiyaki restaurants are grill-it-yourself establishments, where the server produces a bowl of raw ingredients that the customer mixes and grills at tables fitted with teppan, or special hotplates. They may also have a diner-style counter where the cook prepares the dish in front of the customers.
The Okonomiyaki that Seta cooks is a Hiroshima-style Okonomiyaki.
Community content is available under
CC-BY-SA
unless otherwise noted.