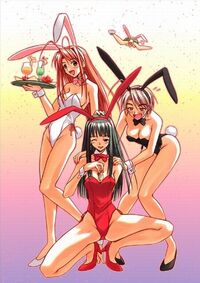 The Playboy Bunny Suit is the bunny-themed uniform of the waitresses of the Playboy Club. Dubbed the "Bunny Suit", with the waitresses being referred to as "Bunnies", the uniform consists of a strapless corset teddy, bunny ears, black pantyhose, a collar, cuffs and a fluffy cottontail. It is inspired by the tuxedo-wearing Playboy rabbit mascot.
The suit is very popular in Japan, where it has lost much of its association with Playboy and has instead become associated with sexiness in general. It has also obtained an association with the female human/animal hybrids common in anime and manga known as kemonomimi alongside other animal-themed garments.

Gallery
Trivia
The suit was conceived by Playboy's director of promotions, Victor Lownes and designed by Zelda Wynn Valdes, with refinement by Hugh Hefner. Originally the ears were taller and the ensemble lacked the trademark bow tie, collar, and cuffs. First unveiled publicly in an early episode of Playboy's Penthouse magazine, the suit made its formal debut at the opening of the first Playboy Club in Chicago on the evening of February 29, 1960.
Community content is available under
CC-BY-SA
unless otherwise noted.