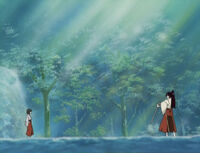 Rock Splitting Spirit Sword, also known as Zanmaken and Zanmaken Ni No Tachi, is a high-level secret technique used by the Shinmei-ryu School of Swordsmanship and a signature attack of Motoko Aoyama.
The Rock Splitting Spirit Sword is used to banish evil spirits from objects or people while leaving the person or object unharmed by directing the technique's ki directly at the targeted entity; it can also be used to attack targets that are hiding behind objects such as shields and hostages.
Upon learning this technique, Motoko was able to use it to banish a cursed spirit that was possessing her friends, as well as sealing the Cursed Blade. Her sister, Tsuruko Aoyama, is also capable of using the technique, cutting down Kentaro Sakata's car before it ran over Keitaro.
Gallery
Community content is available under
CC-BY-SA
unless otherwise noted.