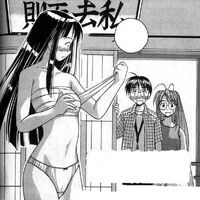 A Sarashi is a long, winding strip of cloth, usually thick cotton, wrapped tightly around the midriff and chest. Historically worn by the samurai under their kimono to resist injury, modern delinquents and Yakuza wore sarashi under their coat or unbuttoned shirt as sign of their strength; trading off of the samurai image.
For girls the sarashi may also be used as a substitute bra, wrapping and tying down the breasts to keep them secure when moving, or to simply flatten their bust to avoid attention.
Gallery
Other Appearances
Negima! Magister Negi Magi!
Main Article: Sarashi
UQ Holder!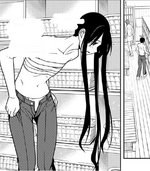 Main Article: Sarashi
Community content is available under
CC-BY-SA
unless otherwise noted.